Super Mattress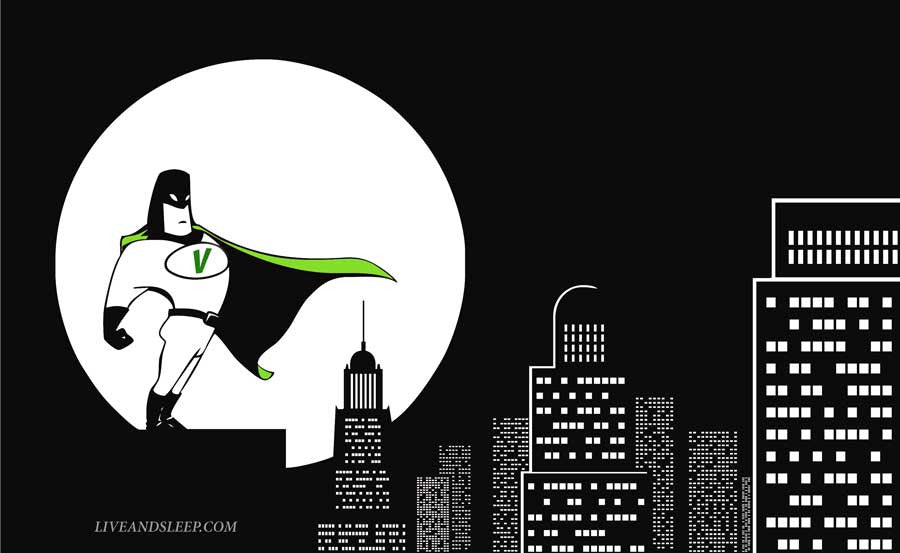 Super Mattress
Hi, I'm Larry. I'm a mattress. You might think the life of a mattress is pretty dull, but you are wrong. Some of the most interesting things in a person's life happen while they're in bed, and I get to see it all. Not to mention the fact that I'm a super mattress and my owner is a smart and classy guy—that's why he bought me. So I live in my owner's stylishly decorated bedroom, across from his TV and his window overlooking the big city. Even on uneventful nights I get to see great shows and movies and look outside. But there actually aren't many dull nights around here. You see, my owner isn't a typical guy. He works long crazy hours because he's secretly, you guessed it, a vigilante crime fighter, The Vindicator. I'm sure you've heard of him.
Right next to me is a phone that's directly connected to the mayor's office, and whenever trouble is brewing in town, we get a message. This could be any time during the day or night, so the Vindicator sleeps whenever he can. I'm honestly not sure what he does for a living that allows him to rush off and fight villains at all hours, but I think he's some kind of genius business owner. Anyway, when the alarm goes off, I get to hear what the emergency is, and then he bounces off of me and slides down a pole into some kind of high-tech hideout or something. Last night it was a typical jewel heist, probably amateurs, because The Vindicator was back on me within an hour. He slept like a baby the rest of the night.
But it's not always like that. Three days ago, very early in the morning, The Vindicator got a message from the mayor because somebody had stolen a new tiger cub from the city zoo. Some muscle Tyson wannabe stole some keys and tranquilized the mommy tiger, then ran off with her baby. My owner must have had to lie low for a while after he recovered the little cubby, because the cute little fellow ended up on me for a couple hours while my owner tried to get in a few winks. It didn't happen though, the tiger just wanted to play (which was murder on me I tell you—I was sure I was going to get clawed). Finally, my owner took him back to the zoo before they opened, came home, and plopped down hard on me. Within two minutes he started snoring (and his super-snores rattle me to the core), and two short minutes later we got another message from the mayor that a pelican and an ostrich were now missing from the same zoo. The Vindicator's moan that followed was loud enough to vibrate the whole floor. Super folk need sturdy homes and durable mattresses.
Part 2 coming soon at liveandsleep.com
This website is provided for general information only, and should not be treated as a substitute for the medical advice of your own doctor or any other health care professional. Live & Sleep is not responsible or liable for any diagnosis made by a user based on the content of this website. Always consult your own GP if you're in any way concerned about your health